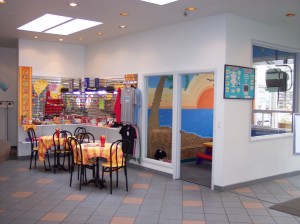 At Sunset Cafe we make the freshest Power Smoothies on the Coast — using only whole fruit and whey protein. We also stock a variety of cold beverages for hydration, recovery, and meal replacement.
For a quick snack, we provide several different brands of snack and meal replacement bars appropriate for both before and after a workout. And there is always something   for the kids.
We are proud to feature Quest Nutrition Bars — all natural, no junk — low carb/high fiber/gluten free bars in a variety of awesome flavors. Apple Pie, Lemon Creme Pie, Banana Nut Muffin, Chocolate Chip Cookie Dough, Strawberry Cheesecake — which will become your favorite?